Gelek Rinpoche withdrew from his earthly body today around 6am (February 15, 2017)
Remembering Gelek Rinpoche, Tibetan Buddhist teacher and author (1939-2017)
The Tibetan lama and author of books including Good Life, Good Death: Tibetan Wisdom on Reincarnation, has died. As posted on his Facebook page:
Kyabje Gelek Rimpoche, our dear teacher and friend, passed away this morning at 6 AM. We will keep him in our thoughts today and every day.
Information regarding arrangements will be posted on the Jewel Heart International Facebook Page as we receive it and we ask you to respect the privacy of his immediate family at this time.
Born in Lhasa, Tibet in 1939, Rimpoche [whose name was sometimes spelled "Gelek Rinpoche," "Gehlek Rimpoche," or variations thereof] trained at Drepung Monastic University, earning his geshe degree. He fled Tibet for India in 1959, and became director of Tibet House in Delhi, India. In the late 80s he founded Jewel Heart, the Ann Arbor, Michigan-based center "dedicated to the preservation of Tibetan Buddhism and to bringing the practice of this rich tradition within the context of contemporary life to everyone." A lively center, Jewel Heart attracts and serves practitioners of all levels, and is informed by a board and advisors that includes luminaries such as Amy Hertz, Jonathan Rose, Richard Gere, and Philip Glass — who serves as Board chair and once wrote an exclusive composition as a fundraiser for the sangha. Poet Allen Ginsberg was also a member of the community.
His full biography can be read on the Jewel Heart website.
In noting his passing, Roshi Joan Halifax offered this tribute, surely among the first of many to come:
Beloved Gelek Rinpoche has gone beyond……..
With his passing, we remember that life is so fragile, so brief.
We have little time to awaken in perfect unselfishness.
Rinpoche gave so much to so many.
He is an inspiration for all of us.
We must remember his way, his great teachings on bodhicitta.
My heart aches knowing that he is now not among us as a living being
but his great heart will never leave us.
Rimpoche was also a contributor to our publication, Buddhadharma: The Practitioner's Quarterly. We wish to express and share sympathies with all who knew or were touched by his presence and teachings.
Please read enjoy this selection of his articles from our archives.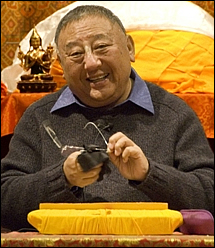 Born in Lhasa, Tibet, in 1939, Kyabje Gelek Rimpoche was recognized as an incarnate lama at the age of four. Carefully tutored from an early age by some of Tibet's greatest living masters, Rimpoche gained renown for his powers of memory, intellectual judgment and penetrating insight. As a small child living in a monk's cell in a country with no electricity or running water, and little news of the outside world, he had scoured the pictures of torn copies of Life Magazine for anything he could gather about America. Now Rimpoche brings his life experience and wisdom to both the east and the west.
Among the last generation of lamas educated in Drepung Monastery before the Communist Chinese invasion of Tibet, Gelek Rimpoche was forced to flee to India in 1959. He later edited and printed over 170 volumes of rare Tibetan manuscripts that would have otherwise been lost to humanity. Rimpoche was also instrumental in forming organizations that would share the great wisdom of Tibet with the outside world. In this and other ways, he has played a crucial role in the survival of Tibetan Buddhism.
He was director of Tibet House in Delhi, India and a radio host at All India Radio. He conducted over 1000 interviews in compiling an oral history of the fall of Tibet to the Communist Chinese. In the late 1970's Rimpoche was directed to teach Western students by his teachers, the Senior and Junior Masters to His Holiness the Dalai Lama. Since that time he has taught Buddhist practitioners around the world.
Rimpoche is particularly distinguished for his thorough familiarity with modern culture, and special effectiveness as a teacher of Western practitioners of Tibetan Buddhism. Recognizing the unique opportunity for the interface of spiritual and material concerns in today's world, Rimpoche has also opened a dialogue with science, psychology, medicine, metaphysics, politics, and the arts.
In 1988, Rimpoche founded Jewel Heart, a Tibetan Buddhist Center. His Collected Works now include over 32 transcripts of his teachings, numerous articles as well as the national bestseller Good Life, Good Death (Riverhead Books 2001) and the Tara Box: Rituals for Protection and Healing from the Female Buddha (New World Library 2004). Rimpoche is a U.S. citizen and lives in Michigan.
Gelek Rimpoche Collected Works
Gelek Rimpoche's contribution to the preservation of authentic and seminal Tibetan Buddhist teachings within the Gelugpa tradition, for both present and future generations, cannot be underestimated.
His vast audio archive of teachings, dating back to the mid 1980's, serves as a basis for future books and transcripts and is a source for distribution as mp3s and downloads. It was fully digitized and catalogued in 2009 and Rimpoche's video recordings await similar digitization and cataloging.
With many of Rimpoche's teachings transcribed, compiled and published, there are now over 35 lightly edited transcripts with another ten in various stages of production. The goal to re-publish these and all future transcripts in a book-like format began with the production of SEM, GOM, Odyssey to Freedom, Four Noble Truths, and The Four Mindfulnesses.
Gelek Rimpoche published books are Good Life, Good Death and The Tara Box. The archive holds great potential for future books with several projects currently under consideration by different publishers.
The extensive archive housing Rimpoche's audio/video recordings and transcripts is a treasure house of original and authentic teachings from a great contemporary master. Your support to maintain and further develop the electronic audio and video archive and the transcript project is most welcome. To offer your support, to transcribe or to sponsor transcript publication: