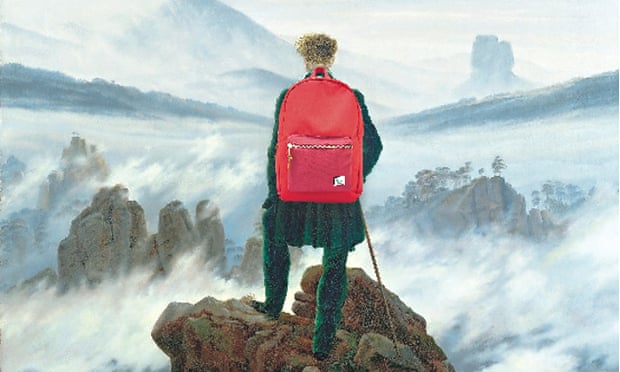 2 January 2016  –  a pome a day
Kerouac in My Backpack
Up at midnight,
painting a picture,
recalling a dream,
writing in a journal,
sketching out a poem.
Once again the vandal
has returned to the night,
like an orange-red mandala
over the fields.
The muse has taken a knife
to the wholeness,
slashing through
the intractable space.
I want rhythm, destruction, sacrosanct ghosts.
I want words to carry me home.
I want to build space where there is none.
I want songs to spring from the rim of the world.
I want to whistle this tune till I die.
–Leza Lowitz
100 Aspects of the Moon
Printed Matter Press, Tokyo, 2005
https://en.wikipedia.org/wiki/Leza_Lowitz
My sweetheart and I are strolling around near the plaza downtown. Window-shopping, sunny afternoon, Mill Valley. It's Kerouac country, among other things, but I rarely think of it that way. There's so much more to it. Gary used to live just up the street, Jane Hirshfield still does. Peter Coyote strolls the plaza on his way to & from morning cup & paper at Peet's. Just up the block, feet from Peet's, behind the Depot, in the northeast corner a little boutique—women's attire. This season everything there is long, white, lacy, like clouds. On the inside bottom ledge of the display window, a small, delicate but rustic set of antique bamboo tea ceremony implements. Elegant white-haired woman proprietor greets us. Appreciates our admiration for these rare items. "Yes, my daughter brought those from Japan. She lives in Tokyo, teaching yoga. She's a poet, too, do you know her? Name is Leza Lowitz?" Coupla years later, I'm working at Marin's best indie bookstore—long gone now; this was before Borders came in and swept most of them away. …A blessed time and place…. Leza came and read, as did (on different nights) Jane H, and Bill Porter down from Port T. among so many others. Kim A, mean motorscooter, held her classes in our space every week. Leza sent a thank you note from Tokyo on an antique photo postcard of a Geisha. Fast forward another several years, into the desert. One of the first new books to reach us here: 100 Aspects of the Moon. Emaho.
^^^   ^^^   ^^^